If you are interested in a bio that can be reprinted in a concert program, please click here.
I am in my third decade of playing the clarinet, and I am always happy to identify myself as a musician. I teach at The University of Mississippi, where I have led the clarinet studio since 2002. I also teach Intr

oduction to Music, a music literature survey course for non-music majors, and the clarinet portion of our single reed methods course for music education majors. Most of the students in my studio are preparing to be music educators, many as band directors, but some want to go on playing the clarinet as I have. I am delighted that my vocation includes teaching students and playing music, two activities that are deeply fulfilling for me.
I am a product of public school music programs, beginning in sixth grade band at Cedar Bluff Middle School in Knoxville, Tennessee and continuing at Jordan High School in Durham, North Carolina, where I was fortunate to have Jesse Holton as my band director. I was part of the orchestra at North Carolina Governor's School West, where Randy Foy introduced me to some of the great works of the twentieth century, the beginning of my continuing interest in contemporary music. I began studying with Donald Oehler at The University of North Carolina at Chapel Hill when I was in high school and continued studying with him in college. His excitement about music and his sensitive clarinet playing were very important in my decision to pursue music as a career. Don led a study abroad program in the summers at a chamber music workshop in Morges, Switzerland, where I relished the sense of teamwork and the excitement of developing a performance in a small group. While in Morges, I studied with Freddy Arteel, the clarinet professor at the Royal Conservatory of Ghent in Belgium, and his philosopher's approach to the instrument was another early source of inspiration that continues to this day. I finished my degree at Chapel Hill with a double major in music and English, where poetry writing workshops with Robert Kirkpatrick and Michael McFee taught me about the work of perfecting a phrase–concepts that can be applied a line of poetry or a line of music.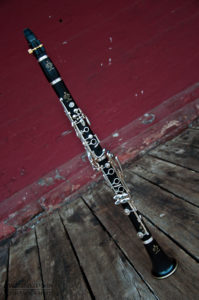 I moved to Iowa City and studied with Maurita Murphy Marx at The University of Iowa, where I received my Masters degree. Her direct style, clear approach and carefully thought out pedagogical structure are an important part of my own approach to teaching. Finally, I completed my Doctor of Music degree at Florida State University, studying with Frank Kowalsky, a profoundly expressive musician and generous person who helped me gather the tools to be the musician and the teacher that I dreamed of being. I developed an interest in world music at Florida State, spending five happy semesters in the steel band, and wrote my doctoral treatise on the phenomenon of "wedding music" in Bulgaria, a twentieth-century style that mixed traditional Bulgarian and other Eastern European styles with elements of Western jazz and rock as a protest against Communist strictures in the 1970s and 1980s. With the help of scholar Timothy Rice, FSU faculty member Michael Bakan, and most of all Bulgarian performers Yuri Yunakov and Ilian Iliev, I worked at learning this music of supercharged energy and heartfelt expression.
I began teaching at The University of Mississippi in 2002 as an adjunct instructor, and became a tenure-track faculty member in 2008. My students have taught me as much as I ever learned in school, and I am proud to contribute to the furthering of public education in the state of Mississippi. I continue to enjoy promoting contemporary music, with a repertoire list that includes Kenji Bunch, Eric Mandat, Shulamit Ran, Joan Tower, Scott McAllister, Valerie Coleman and Steve Reich. The CD I released in 2012 on the Albany records label, Close to Home, includes works by some of these contemporary American composers alongside works by composers such as Aaron Copland and Leonard Bernstein. I continue to enjoy chamber music, performing together with the UM Faculty Woodwind Quintet and as a duo with my saxophone colleague Adam Estes. I also continue to enjoy collaboration in other ways as well: I am active in the International Clarinet Association, serving as the State Chair for Mississippi and as the coordinator for U.S. State Chairs. I have also produced several collaborative concerts, including concerts featuring music and poetry, a fully staged performance of Stravinsky's The Soldier's Tale including theater and dance, a concert of John Cage's music to celebrate his centennial, and a collaborative concert with the Memphis-based community music organization PRIZM.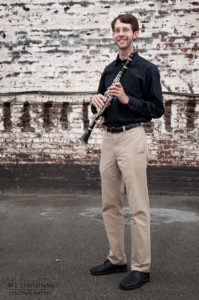 I have toured the Southeast, giving concerts across Mississippi, Arkansas, Louisiana, Kentucky, North Carolina and Missouri, and I have performed at national and international conferences, including those of the International Double Reed Society, the National Flute Association, the College Music Society and the International Clarinet Association. I have performed with orchestras across the region as well, including the Memphis Symphony Orchestra, the Arkansas Symphony Orchestra and the Louisiana Philharmonic. I have played for audiences of professional musicians, university students and community members, high school, middle school and elementary school students. I look forward to continuing this work and hope to share music with you sometime soon. Thank you for visiting my website!
Photographs by Whitney L. Davidson.